Read the Leaflet: Avoiding Medication Overdose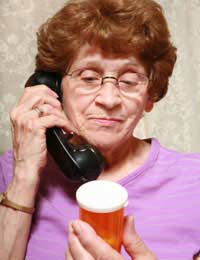 Medication overdoses are usually due to human error and as such are largely preventable. Unfortunately, carelessness and confusion regarding a medication's effects and how it should be taken are common pitfalls that can lead to an overdose of a drug. Overdoses are generally more likely to occur with a prescription drug but may occur with over-the-counter drugs when mixed with substances such as alcohol, for example. The actual amount of a medication required to cause an overdose varies greatly with regards to the nature of the drug itself as well as the person taking it.
Common Symptoms of Medication Overdose
If you suspect you may have suffered from a medication overdose, it's important that you obtain medical attention right away. Some of the more common symptoms that could indicate an overdose include:
Hallucinations
Extreme dizziness
Slurred speech
Abnormal pulse
Difficulty breathing
Change in pupil size
Fainting
Intense sweating
Rapid change in body temperature
The One Drug Myth
Many people falsely assume that if they are only taking one type of medication, they are safe from an overdose. There is often a mistaken notion that overdoses will only occur from drug to drug interactions, but this is not the case. It's true that your risk tends to increase when you are combining medications, but taking too much of one drug can still lead to overdose. For others, a seemingly normal dose could also still cause an unpredictable reaction.
Follow Label Directions
For most people, an overdose is highly unlikely if medications are taken exactly as directed, whether that is an over-the-counter or a prescription one. Some of the ways you can actively prevent an overdose from occurring are:
Never take more than the prescribed dose. This seems like common sense but it can seem like taking more will bring relief faster, which is not the case. It can, however, lead to an overdose.
Store medications in childproof containers or ideally, in a locked medicine cabinet. A child can easily overdose on a medication if he or she gains access.
If you wear glasses, be sure you have them on when taking a medication. This will ensure you have the correct medication and that your dose corresponds to the label instructions.
If you suffer from problems with memory, you may need your medication schedule supervised.
Never take a prescription medication intended for someone else. You don't know how your body will react to the medication itself and the specific dose.
What Else Can I Do?
There are many strategies to gleaning the most benefit from your drugs while minimising the chances of an overdose and these begin in your doctor's office and at the pharmacy. Ask questions if you have even an iota of doubt regarding how a medication should be taken. Your doctor also needs to know about any pre-existing medical conditions that could affect how you metabolise the drug, for instance.
With a bit of care and thought about how to take medications, you can prevent a medication overdose from occurring in either yourself or a family member. Your medications are intended to treat health conditions and by following label instructions and asking questions, you can reduce your risk of a medication overdose and obtain relief from your discomfort.
You might also like...