General Safety Issues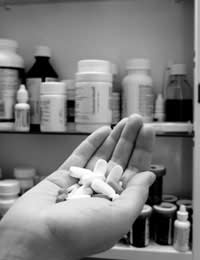 It's almost odd to think that the very place you go to obtain relief from common health ailments is the same place that can be a safety hazard. Your medicine cabinet is an important tool for keeping both you and your family healthy but it's important to take a bit of time to ensure it doesn't pose a threat to anyone's safety.
Keep Your Cabinet Locked
No matter where you keep your medicine cabinet always confirm that it is securely locked. By climbing on a stool or counter, children can still find ways to open cabinets that appear to be out of reach. If you make a habit of keeping your cabinet locked, you can have peace of mind knowing that you have prevented your kids from accessing its contents.
Dispose of Drugs Properly
Whenever you throw out medications, ensure that you do so properly and according to local policies. Your pharmacy will likely offer a safe method of medication disposal so be sure to request information. Never put medications in a garbage bin where a child can easily pull them out. Mercury thermometers in particular need to be disposed of safely and your local health department can direct you to proper disposal practices.
Don't Keep Old Drugs Around
Check regularly whether medications have expired and throw out those that are past their expiration date. At best, the active ingredients won't work and you'll still feel poorly after taking them and at worst, bacteria or contaminants could make you seriously ill. It can be hard to throw out items you have spent money on, but in the case of medications, it's a necessary practice for household safety.
Read Labels
Always read labels carefully because grabbing the wrong medication could prove harmful or fatal. Oftentimes, medication bottles look quite similar and it can be easy to grab the wrong one, especially if you are in a lot of pain and desperately need that painkiller, for example. Take the extra few minutes to make certain you have the correct medication for your ailment.
Watch For Interactions
Never assume that two medications are fine to take unless you have checked with a doctor or pharmacist first. Most medications have labels describing potential interactions. Read these carefully when you first purchase the item and again if you are considering taking the medication with another remedy. Interactions can involve foods, drugs or other health conditions you may have.
Don't Overdo It
For most over-the-counter medications, try to take the lowest dose allowed to treat your problem. If you find you need more and it's within the label's instructions, then you can always increase the dosage later. This is particularly important if it's a newer medication you are not familiar with-try out a lower dose and then increase accordingly and in compliance with the medication instructions. This can help you minimise side effects while still providing you with effective relief of your health ailment.
Medicine cabinet safety is not something to be taken lightly and consequences from poor safety practices can be harmful or fatal. By following some powerful but simple and easy tips, you can ensure safe storage and administration of medications for a healthier household.
You might also like...