The Importance of Using Sunscreen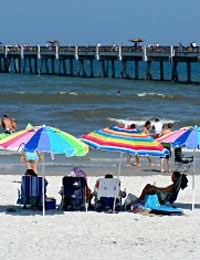 Most people are familiar with the drugstore aisle full of sunscreens but how many people actually use the right kind of sunscreen on a regular basis? We hear about the warnings on television and in print ads and may wonder if it's all exaggerated or perhaps we feel invincible to the sun's effects.
Why Sunscreen Is Important
Sunscreen is one area where the media gets kudos for accurate reporting-the sun's rays do contribute to a range of conditions such as cancer sunstroke and premature aging of the skin. Sunscreen is important because it can reduce your exposure to the sun and therefore reduce your risks of developing conditions related to sun exposure. Sunscreen is, however, by no means a complete blocker of the sun's rays and any indication that it can do so is misleading. It is simply a tool, albeit an important one, that should be a staple item in your medicine cabinet, particularly during the warmer months when the sun's rays are stronger.
How Sunscreens Protect You
Sunscreens work to increase the amount of time you can spend in the sun by blocking ultraviolet (UV) rays and preventing you from burning. It is well documented that exposure to UV radiation can result in sunburns, which can further lead to skin cancer. It is the UVB rays that are the main culprit responsible for the sun's negative effects and although they will reduce sunburn risk, their effectiveness in preventing aging and other health effects is lower.
Sunscreens have a sun protection factor (SPF) on the bottle label, which indicates how much time you can spend exposed to the sun's UVB rays with sunscreen on your skin before redness appears. The SPF factor is in comparison to the length of time for unprotected skin. Because the SPF is different from one sunscreen to another and also only describes protection against UVB, you should look for sunscreen labels that indicate 'broad spectrum.' This means that you will receive some protection against UVA radiation in addition to the SPF for UVB.
How Long Until I Burn?
The duration of time required for unprotected skin to burn is dependent, in part, on your skin type. Fair skins typically burn more quickly than darker skin types. If, for example, you tend to burn after twenty minutes of sun exposure, then an SPF of 15 would enable you to be in the sun fifteen times longer-approximately three hundred minutes. Again, this doesn't mean that you can't sustain any skin damage. Compare it to a window screen that keeps out bugs-air still manages to flow through and any holes in the screen will allow more unwanted intruders. Sunscreen is similar in that you will still receive some exposure to the sun but as you sweat and perhaps swim, you will also get 'holes' in the protection.
Tips for Minimising Risk
Most experts now recommend that you use a sunscreen with an SPF of at least 15. Aim for one that is broad spectrum and long-lasting, which means that the package will indicate that it is water resistant. Always reapply after prolonged periods in the water or if you sweat heavily. Don't scrimp on application and be sure to sufficiently cover your body, including easily missed places such as your ears and neck. Other tips for minimising your risks include:
Avoid the hottest hours of the sun, usually during 11 am and 3 pm.
If sitting outside for a long time, try to spend some of this time in the shade.
Protective eyewear, a hat and clothing are helpful additions to sunscreen that can offer increased protection against the sun's rays.
Sunscreen shouldn't be an optional item in your medicine cabinet and instead, should be a staple item that you keep in constant supply, especially during the summertime. Try to get into the habit of applying it before you leave your home and frequently after contact with water. Children should learn about the importance of sunscreen and an adult can ensure that they are well protected. By using sunscreen, your time spent enjoying the sun can be safer.
You might also like...