The Biggest Medicine Cabinet Mistakes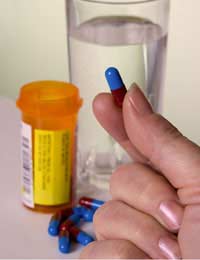 Most of us have – or at least should have – a medicine cabinet that holds all of the basic necessities for first aid as well as our prescription medicines. But while having a medicine cabinet is important, just as important is that you avoid some of the biggest medicine cabinet mistakes. Failing to do so can mean jeopardising your health and the health and well-being of your entire family.
Not Locking Your Cupboard
It seems like a simple concept but while most of us know full well that it's important to lock up a medicine cabinet, it's all too easy to forget in our haste to bandage up a cut or grab a pain reliever for that pounding headache.
Forgetting to lock your cupboard can mean that your kids or any visiting children from friends are able to access the medicine cabinet. It's a small thing but easily overlooked, so consider a door that has a self-locking mechanism that automatically locks it when the door shuts. Even a sign on the front to remind you could be helpful as well.
Forgetting to Check Expiry Dates
With so many medicines in our cabinets these days, it's natural to forget that medicines do expire. Natural but unsafe all the same! Whenever you buy a new medicine, consider marking on your calendar when it expires. It's a relatively quick and simple way to ensure you never keep expired medicines in your cabinet.
You may even use up the medicine before it expires but in case you don't, you won't deal with the frustration of using a medicine later that has expired and is ineffective. You can also do a regular 'check' of medicines by looking at expiry dates for everything several times a year.
Medicine Cabinet Clutter
Even though it's wise to have a good selection of medicines to cover emergencies and all of your health needs, the last thing you need is to run to your cupboard to deal with a bad cut, only to find that you're rummaging through with frustration as you try to find a plaster. Make a point of keeping your medicine cabinet clutter-free.
Some people find that keeping medicines in labelled containers with snap-down lids is helpful, with more of the 'emergency' first aid items near the front. Either way, maintaining it clutter-free is a good approach but if you do find it's getting a bit messy, then it's worthwhile a few times a year to organise your medicine cabinet.
Sharing Prescription Medications
If you think your killer headache can be helped by your husband's prescription migraine medicine, you're mistaken. However, you're not alone. Many people will dangerously share prescription medications because they have self-diagnosed and believe they can obtain relief.
In the case mentioned above, migraine medication would not help because migraines are different than most kinds of headaches. Another concern with sharing prescription medications is that they are not all preventative or used to treat as needed.
For example, if you were taking an antibiotic for a throat infection, you might think that your child's sore throat was similarly an infection – meaning it's okay to share your medication. But actually, this would be dangerous not only because it may not be an infection and this kind of antibiotic overuse can lead to resistance, but because you would lose out on the full prescription. Each dose you miss can mean your infection is more likely to recur, leading to another course of antibiotics for you.
Be Safe and Avoid Mistakes
It doesn't take a lot of time to keep your medicine cabinet safe and effective. By avoiding the biggest medicine cabinet mistakes, you can ensure that your medicine cabinet does exactly what it is supposed to – provide the medicines that keep you and your family healthy when you need them most.
You might also like...