Chidren's Medicine and Recommended Dosages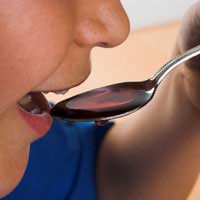 Children can require very different medication doses compared to adults. It's not a simple case of giving a child half the amount because they are for example, half the weight of an adult. Drugs can have a very different effect in a child's body due to numerous other factors. Small children have a higher percentage of water in comparison with adults and thus, the water solubility of some drugs will affect a small child differently than it would an adult. The differences in liver size can also impact the metabolism of a drug. Also affecting the drug metabolism is kidney functioning, which may be slower in children. As such, medication can be retained in the body for much longer, which means that a smaller dose would be needed.
Medications for Children
Getting your child to take his or her medication can sometimes be a challenge but there are now many options available on the market to handle these difficulties. Over-the-counter medications often come in specially flavoured liquids that are meant to be more palatable to a child's finicky taste buds. Other medications will have instructions for children listed under the uses listed on the label. The dosage will also be listed beside a specific age or weight range. It may also cite that a child under a certain age should take an advised dosage (e.g. ½ teaspoon for children under 12).
Paracetamol
As a general rule, a child's recommended dose of paracetamol should involve a single dose of 10 mg per kilogram of body weight. This amount can be repeated approximately every four to six hours but should not exceed four dosages within a twenty-four hour period.
Ibuprofen
Like paracetamol, ibuprofen dosage is also based on weight. The guidelines are shown below, with the weight and corresponding dosages:
12 lb = 50 mg
18 lb = 75 mg
24 lb = 100 mg
36 lb = 150 mg
48 lb =200 mg
60 lb = 250 mg
72 lb = 300 mg
Cough Syrups
Although cough syrups will usually show recommended dosages for adults and children, it's a good idea to choose one that is tailored for kids, particularly as it will be flavoured more appropriately. One of the most common cough and cold medicines is shown below with the corresponding dosage for children.
Benylin Children's Chesty Coughs: For children 1-5 years, 1 5 ml spoonful four times a day. For children 6-12 years, two 5 ml spoonfuls four times a day. No more than four doses should be taken in a 24-hour period.
Aspirin Warning
Children under 16 are advised not to take aspirin because of its association with Reye's syndrome, which can cause neurological complications or death. If aspirin is administered while a child has a viral infection such as the flu, the risk of developing Reye's syndrome is increased.
Children aren't simply 'little adults' and their medication needs must be appropriately tailored. A drug label is always the important guiding tool along with recommendations from your pharmacist or doctor but it's also a good idea to be familiar with drug doses for children. You will have a clearer and better understanding of how much medication to administer to your child and you can ensure that the drug safely relieves your child's discomfort.
You might also like...