Creating a Travel First Aid Kit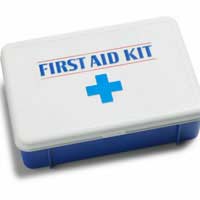 Many of us have perfectly organised and well-stocked medicine cabinets in the house, but we neglect to bring a first aid kit with us when we travel. To make sure that you and your family aren't caught with health problems that require medicine cabinet attention, take a bit of time to pack a travel first aid kit. It needn't be an enormous kit and can just contain the basics to keep your travels abroad safer and healthier. Think of your travel first aid kit in the same way that you view your handbag – you wouldn't leave the house without it.
Importance of a Travel First Aid Kit
Your travel first aid kit has two key purposes. The first is to allow you to quickly and easily care for minor problems and ailments that may occur during your travels. The second is to treat conditions that are already present or ones that may have worsened during your travels. For instance, people who have diabetes will need to bring insulin and related medications with them on trips or even just during the day as they travel to and from work or social activities.
People with allergies should pay particular attention to bringing medications such as antihistamines, mostly because allergic conditions can worsen during the long airplane rides and travel to places where allergies such as hay fever are more prevalent. You might also want to be sure that you are wearing any sort of bracelet that identifies your condition and allows others to provide help for you if you become very ill. For example, a diabetic might suffer from a hypoglycaemia attack – where their blood sugar actually becomes too low – and the symptoms of confusion and dizziness can mean an outsider needs to intervene. An identifying medical bracelet can help others to quickly come to your aid.
Choosing a Travel First Aid Kit
If you really don't want to put in the time to create a personalised travel first aid kit, there are commercially available kits that can suffice. These commercially available kits are best for people who have no pre-existing conditions and need only address minor health problems as they occur. For those who do have pre-existing conditions, it's wise to pack a basic kit in addition to any specific medications and treatments you need to stay healthy. Your personal prescriptions should remain in their original packages or containers and it's a good idea to bring a copy of the prescription in case one gets lost. Any prescriptions requiring injection or on the list of controlled substances should also have an accompanying letter from your physician.
What you pack in your medicine cabinet will not only depend on your own health prior to your travels, but it also relates to the destination of your travels. In high malaria areas, you might be bringing anti-malaria medications. For places where there is questionable drinking water or increased risk of food poisoning from poor hygiene in commercial food providers, you should consider bringing an anti-diarrhoea medication as well. Alternately, long periods of sitting during travel can trigger constipation. As such, drink plenty of fluids to prevent constipation and you can pack a mild laxative to deal with persistent constipation that may occur during your travels abroad. Some doctors will provide patients with a broad-spectrum antibiotic to bring on the trip if there is concern about access to antibiotics when a person contracts a bacterial infection. Your physician will provide instructions for how and when to use the antibiotic. Now would also be an excellent time to ensure that your immunisations and vaccinations are up to date. If you are travelling to places where there are higher rates of certain diseases, obtaining appropriate immunisations and vaccinations can keep you healthy during your travels.
Motion sickness medications can help with the travel itself while pain relievers such as acetaminophen or ibuprofen can ease fevers and any pain. A thermometer can allow you to monitor a fever, which is particularly important in children and babies. With cramped airplane travel consisting of recycled air and a plethora of germs, you may want to bring antibacterial wipes to keep hands clean and also to refresh yourself a bit during long flights. Moisturising eye drops can work as a beauty aid to keep eyes bright and also medically to keep eyes moist and comfortable during your travels, especially if you don't sleep much during a flight, bus or train ride.
Don't forget basics such as throat lozenges for any pesky cold virus or flu that may hit. You might also want to include an antacid for indigestion and antibacterial ointments, bandages and plasters to treat minor cuts and scrapes from any small accident. For hot, humid climates, insect repellent is a must, as is sunscreen of at least SPF 15. You can bring aloe vera gel to treat sunburn. If you are travelling to a high altitude location, ask your pharmacist or doctor about high altitude medications to prevent nausea and headaches. In places where bottled water is not available, you may also need to use water purification pills.
Keeping Good Mental Health During Travels
For those who suffer from anxiety during their travels, you can speak to your doctor about a mild sedative to provide relaxation. Sleep aids can ease you into sleep and anti-anxiety medications can help you to feel more comfortable and positive during your travels. Consider bringing a pillow as well to relax your back during long flights or ground transport.
A Healthy, Happy Trip Abroad
Keep in mind that your travel first aid kit is only helpful if it is accessible! This means carrying it with you at all times, including in carry-on luggage when allowed. While some emergencies can't be handled by a first aid kit, such as emergencies where you would require cardiopulmonary resuscitation (CPR), most minor health issues can be safely treated by your travel first aid kit. However, it is helpful if you or other adult family members do learn the techniques of mouth-to-mouth resuscitation for the rare chance that an emergency does occur during your travels abroad. Whether you are travelling by car, train, bus or airplane, your mini medicine cabinet can help to ensure that your travels are safe and healthy, which allows you and your family to fully enjoy your travel excursions.
You might also like...