Medicine Cabinet and Placebos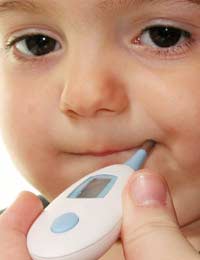 When it comes to children, most of us are familiar with the old expression 'a spoonful of sugar helps the medicine go down'. Yet now, we are finding there is much more truth to this statement than originally thought. Some parents could be too quick to give their children medication in cases where one really isn't required.
Overmedicating Our Children
Today, we have a tendency to medicate our kids for virtually everything. If you find yourself going to your medicine cabinet for every ache or pain your child complains about, it is possible you are overmedicating your child.
But for most parents, balancing their own concerns with those of their child while making an informed decision to medicate is difficult. One company has approached this issue by developing a product that uses the concept of placebos to handle a child's aches and pains.
The Power of Placebos
The idea of placebos is that a person could take what they think is a medicine but actually has no active ingredient and is simply a 'sugar pill' of sorts. Their belief that they feel better can be enough to prompt powerful change and improve their symptoms. This concept is one that not only applies to adults but also to children.
Obecalp for Children
To address this issue, one company has developed a product to act in this placebo manner. The product is Obecalp and has garnered a lot of attention around the world. It appeases a parent's need to give their child something for their discomfort while the child thinks they are taking a medication and feels better.
Another benefit seen to this placebo pill is that it obviously won't come with the side-effects issue of drugs. Many drugs, especially prescription, can have serious side-effects and reducing the use of these drugs could be an important initiative.
Controversy Around Placebo Pills for Children
Some health professionals have concerns about this product and warn that it could actually be dangerous. They think that by giving children a medication for every bit of discomfort, even minor ones, could then give the wrong impression.
It says that there is a cure for everything and could be encouraging dependence on medications for even the most minor ailments. Instead, there is the thought that we should show children that many things can resolve on their own.
Another worry is that the product Obecalp is really a superficial solution to the deeper problem of overmedication. Rather than empowering children to handle minor ailments in a way that allows nature to take its course, some experts fear that Obecalp will only increase reliance on medications to cure every problem a child experiences.
Use Medicines for Children Wisely
As a parent, it is undoubtedly difficult and distressing to see your child in any kind of pain or discomfort. It is important to use medications in some instances to relieve pain – if your child has a bad cough or a high fever, for instance. But the key message to take away from the controversy over placebo pills is that we should work with nature rather than replace it in every case.
You might also like...