A Medicines from What's in Your Garden?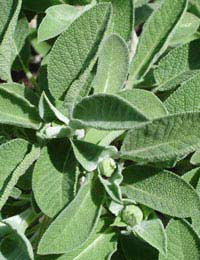 Although prescription and over-the-counter medicines have an important place in your medicine cabinet, they do still tend to carry more side effects than many natural medicines and remedies. In fact, did you know that your garden could actually be brimming with remedies for your medicine cabinet?
Many people fail to realise that there are cheap, easy and useful remedies they can grow in their garden – some of which can treat an enormous range of health problems and conditions. You need not be an experienced 'gardener' to grow many of these remedies either.
Sage for Soothing Your Throat
Sage leaves have very useful antiseptic and anti-inflammatory qualities as well as the ability to relieve congestion. Consider growing this herb, and then steam the leaves to make a tea that can soothe a sore throat and relieve inflammation. If you add honey, you can benefit even further from enhanced antibacterial qualities as your sore throat heals.
Neem Oil for Healthy Hair
Neem oil is recognised for moisturising hair and can help scalp conditions such as dandruff or head lice. While the neem tree does grow best in hot, tropical climates, with the right care and attention, you can grow the tree in a greenhouse or a container provided conditions aren't too cold.
The oil is pressed from the seeds and is thought to also help treat skin conditions such as acne or dry skin. Other reported uses include fever and the flu.
Shiitake Mushrooms for Better Immunity
Shiitake mushrooms are commonly grown and consumed in Asia as well as being an important export product. They tend be to used in a number of 'fancier' gourmet dishes but many people don't realise that shiitake mushrooms have important immune enhancing properties.
The shiitake mushroom is thought to help stimulate the immune system, which means it may work well for preventing colds and the flu as well as improving your symptoms when you do get sick. This mushroom has shown in research to have antibacterial and antiviral qualities.
Aloe Vera to the Rescue
Aloe vera is one of the more commonly known natural remedies that you can grow yourself. It is an excellent plant for soothing a burn, whether that's from your hot stove or from the sun. It also aids in healing; simply squeeze the juice from the Aloe vera plant leaf onto the area that is injured.
Not only that, but the Aloe vera plant is also considered helpful as a digestive medicine. It works well as a tea or tonic to soothe an upset tummy.
Safely Growing a Medicine Cabinet
Growing some of your own medicines is a wonderful way to fill your medicine cabinet with useful remedies that can help keep you and your family healthy. While they can't replace your over-the-counter and prescription drugs, they can still offer an alternative to treat some of the more common ailments without the risk of serious side effects.
You can start by simply growing a few herbs in pots on your windowsill and then as you become more confident, you can consider growing larger trees or plants that have medicinal properties. There are also many books available to provide guidance and support along the way, ensuring your garden continues to grow and provide medicines you need for your medicine cabinet.
You might also like...