Prescription Drugs - Abuse and Addiction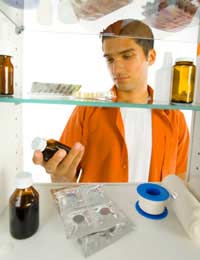 When most of us think about prescription drugs, we think about substances that improve our health and well-being. Yet, medication use also has a dark side that affects both adults and adolescents. This dark side is prescription and over-the-counter drug abuse. While the abuse has been more publicised with regards to adolescent use, adults are a fast growing part of the population who are grappling with numerous issues around the misuse of drugs and addiction.
Prescription Drug Abuse
Stimulants, prescription analgesics, and tranquilisers are commonly abused medications, mostly because they impact the brain and nervous system, which produces feelings of euphoria. Misuse of barbiturates - usually used for anxiety or sleep disorders - can cause depression or breathing difficulties. Lithium and benzodiazepines are also drugs that are often abused, leading to numerous side effects such as respiratory difficulties, dizziness, muscle weakness and gastrointestinal problems.
Over-the-Counter Drug Abuse
Cough and cold medications are often misused. Overuse of antihistamines and decongestants can cause excitability or leave a person extremely drowsy. Medications that suppress coughs are often used to treat long-lasting throat pain and coughs while expectorants are used to clear mucus from the respiratory system. Both types of medications for coughs and colds usually contain alcohol and possibly even codeine to induce drowsiness and relieve pain. They can lead to addiction and adolescents are particularly vulnerable to their misuse, primarily due to the sometimes-high alcohol content in the medications.
Other prescription drugs that may be misused is laxatives. These may be overused for chronic constipation, which then leads to dependence of the bowels on the laxatives. Others may overuse them with the mistaken belief that the laxatives cause weight loss, when in fact they work in the bowel, after food absorption has taken place. Overuse can lead to side effects such as dizziness, electrolyte imbalances, headaches, rashes and also heart problems.
Pain relievers such as ibuprofen are another type of over-the-counter drug that may be abused. People who experience ongoing, persistent pain may use pain relievers regularly and overuse can lead to sensory disturbances, vomiting, headaches and dizziness.
Effects of Medication Addiction
The effects of medication abuse can be very dangerous. An abuse of over-the-counter or prescription drugs can lead to dependence that is both physical and mental. As a person's tolerance to the drugs builds, larger amounts of the drug are needed to provide a sense of well-being. The mixture of drugs can also be particularly dangerous, especially when alcohol is one of the ingredients. Another problem with drug abuse is that the effects of other drugs can be inhibited or amplified, which further jeopardises a person's health. The effects on coordination and driving can be similarly disastrous, which means that medication abuse can not only harm the person misusing the drugs, but also other individuals.
While most people use prescription drugs properly and do so according to the doctor, pharmacist and manufacturer's directions, a significant number of people will still misuse over-the-counter and prescription drugs. The issue is clearly a concerning one and if you suspect that someone you know may be misusing medications, it's important that you gently urge them to seek medical support.
You might also like...