Seniors: Developing a Medication Schedule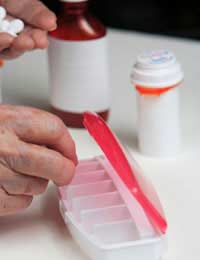 Seniors have unique medication needs compared to younger adults and children. They are more likely to suffer from chronic conditions that require regular medication. On top of that they often have numerous medications to take and it can be exhausting planning medications, remember when to take them and still be on the lookout for medicine interactions.
Remembering To Take Medications
Declined cognitive functioning occurs in most people as they age and this can leave seniors forgetful, particularly in relation to medications. It can also be confusing trying to remember if you have taken a medication and the fear of taking it twice can leave seniors missing a dose. It's important to develop safety guards that ensure you take your medication on time each day. Some ways to ensure you remember to take medications and have a consistent supply include:
Keep prescriptions filled enough in advance that you are not left short.
Consider keeping a stopwatch that gives a light beep to remind you when you need to take medications. If you take medications frequently, this is particularly helpful.
Purchase a pill box. You can buy ones that have several compartments for each day (e.g. morning, afternoon and evening) and some of the larger ones will cover a time period of up to a month. This lets you separate the pills out neatly into each compartment and can help you to remember if you have taken a dose.
Keep a chart beside your medications and check off the corresponding box immediately after taking it.
Overdose
Of equal concern to a senior forgetting to take medicines is the worry that the medication is taken more than once, leaving the senior at risk of overdose. Some of the ways seniors can help to reduce the risks of overdose are:
Only take the prescribed amount. Taking twice as much will not make your illness improve twice as fast.
Never take medications in the dark. Be sure that you have adequate lighting so that you can read bottle labels clearly. If you wear glasses, always put them on when reading prescription labels.
Don't take medications prescribed for friends or family members. Your headache may feel terrible and your friend's prescription strength painkiller may seem like a good idea, but you can't predict how your body will react to it nor how the medication might interact with other medications you are taking.
Always take your medications exactly as the directions indicate. When in doubt, check with a pharmacist or doctor.
When choosing over-the-counter medications, aim for a product that only targets the specific symptoms you have.
Monitoring Interactions
Drugs tend to have a higher retention in a senior's body, which means that their effects can be stronger. As people age, their metabolisms slow and the absorption and excretion of medications is altered. Although a doctor will adjust the dosage to reflect a senior's metabolism, it's still important to be on the lookout for interactions. Seniors must be clear with their doctors and pharmacists about all medications they are taking; a health professional can ensure that combinations are safe. Also, don't be too quick to take over-the-counter medications. Even if the medication isn't known to interact with others you are taking, risks generally increase as the number of medications you are taking increases. For instance, try hot/cold compresses for headaches before resorting to a pain reliever such as paracetamol.
A Medication Schedule Shouldn't Involve Grandkids
Studies have shown that many childhood medication ingestion accidents involve a grandparent's medication. While it's vital that you take your medications as directed throughout each day, it's just as important that you keep them stored safely away from children. Seniors' medications can be highly toxic and it's preferable for you to take your medications in another room. Also be aware that although pill boxes are an excellent way to organise your medications, they don't tend to be child resistant. Therefore, it's important that you store them in a secured medicine cabinet.
As a senior, taking medications will likely be a part of your daily routine. By planning to ensure you take the correct medication in the right doses each day, you can obtain the full benefits of your medicines. This means more time experiencing good health and vitality while you safely enjoy your senior years.
You might also like...