Different Skin Remedies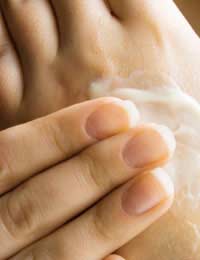 Your skin makes up an important barrier to prevent bacteria and other pathogens from entering your body. If it is cut, bruised, inflamed or otherwise compromised, pain and possible infection can occur. Most people experience skin injuries on occasion-the majority will be minor and if treated promptly, won't pose any additional problems. Others may be a bit more painful but are usually not serious; they may require a slightly more comprehensive approach with your medicine cabinet supplies.
Warts
Warts are caused by a virus, which typically enters through a break in the skin. Common places that cause virus transmission include public pools and change rooms, where most people are barefoot and the moisture and heat encourage the virus. Most warts will usually go away on their own-even those that linger for several years. Their presence, however, can be aesthetically unappealing and also quite painful if they are located on high-pressure areas such as the ball of the foot. Products you can find over-the-counter include liquid wart removers, which tend to have high concentrations of salicylic acid. There are also adhesive patches that you conveniently use to cover the wart. These also reduce the possibility of spreading the virus and are thus recommended. Another option is to have the wart frozen off, either by a doctor or through the use of an at-home freezing kit.
Cuts and Bruises
Minor cuts are an inevitable part of life, whether it's a 'paper cut' or a subtle slip of the knife while you're slicing bread. Always keep an antibiotic ointment on hand and a variety of different sized plasters to protect the cut, prevent infection and facilitate healing. Wash the cut carefully with water and an antibacterial soap, pat dry and then apply a small dab of ointment and cover with a plaster. For bruises, there are many homeopathic remedies that are helpful. A common ingredient to look for is arnica montana, which helps to soothe and heal bruised areas.
Poison Ivy
Poison ivy exposure can cause a rash, which usually occurs within hours to days after coming into contact with the plant. For milder reactions, use calamine lotion or hydrocortisone creams. You can also take an oral antihistamine to treat a more moderate rash that is also very itchy and uncomfortable.
Eczema
Eczema is a common skin condition that tends to run in families. It can occur virtually anywhere on the body but is often found in the creases of elbows and knees as well as on the cheeks and forehead. When scratched, the rash can become very raw and crusty. Dryness can be treated with lubricating creams such as:
Using these daily can help to prevent eczema flare-ups. Another skin remedy is a topical steroid cream, which relieves the inflammation and itchiness associated with the eczema. Care should, however, be taken because steroid creams can cause thinning of the skin. Any long-term use should be performed under your doctor's care.
Don't be afraid to ask your pharmacist for additional skin remedy recommendations. He or she can offer helpful suggestions to help you find the best product for your skin. In the meantime, keep your medicine cabinet stocked with the relevant remedies listed. Your skin is one of the first barriers that bacteria and other potentially harmful invaders must pass, but if you treat and protect skin injuries immediately after they occur, you can prevent any long-lasting problems or damage.
You might also like...