Medicine Cabinet for Babies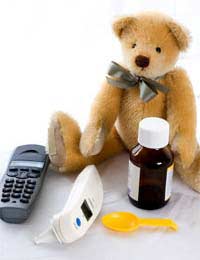 Having a well-stocked medicine cabinet is important to keep you feeling and looking healthy. Yet, other than some of the mere basics such as a pain reliever formula for children, many parents can easily overlook the importance of a comprehensive medicine cabinet for their baby. Between the fevers, ear infections and other common conditions that all babies may develop, an organised medicine cabinet can let you handle your baby's woes with ease.
Safety First
First things first - meaning that your medicine cabinet must be out of reach and securely locked. Keeping items in your medicine cabinet organised into boxes with snap-down lids and labelled can also allow you to quickly locate necessary items. It is also a good plan to have a first aid manual. It is easy to take for granted the basic types of first aid care but the last thing you need is to become forgetful when you need to attend to your baby's distress.
Important Basic Items for Baby's Medicine Cabinet
Fevers in babies and children can be dangerous if they are too high, which means that a thermometer is vital to monitor your baby's fever. There are various types of thermometers and you may wish to choose a digital one for easier, rapid reading. A non-aspirin pain reliever in a liquid formula such as acetaminophen or ibuprofen is also important for relieving pain and reducing a fever as needed.
Handle minor cuts, mosquito bites and the commonly experienced baby rashes with a calamine lotion or a low concentration hydrocortisone cream. You should also have an antibacterial ointment and a good supply of comfortably fitting plasters with an adhesive that is secure. There are many available in bright colours, which younger children tend to like. For a baby, however, the bright colours may actually be quite distracting and can lead to the plaster being pulled off, so it is best to stick with a transparent plaster. It is also a good idea to keep tweezers on hand to deal with splinters and rubbing alcohol can keep your tools disinfected and ready for their next use. For issues such as diarrhoea, your baby's doctor may recommend special rehydration fluids to stabilise electrolyte levels.
Protecting Your Baby When Outdoors
Make sure that your child is ready for summer by using a sunscreen lotion specifically formulated for your baby. Many people are unaware that a sunscreen has an expiry date, so be sure to check that the product is still 'fresh' and active. Insect repellents should also be checked that they are child safe and these can help to keep pesky bugs at bay.
Daily Care and Good Health for Your Baby
Keep cotton-tipped swabs, cotton balls and a very mild, antibacterial soap on hand for quick cleanups. Other important daily care items include baby shampoo and any moisturising lotions to soothe irritated skin. Hot water bottles can also be soothing and ice packs can ensure that any swelling from a bump or bruise is gently eased.
By keeping a wide range of important health aids in your medicine cabinet for your baby, you can ensure that any minor to moderate aches, pains and discomforts can be safely and comfortably treated immediately. Not only that, but a well-stocked medicine cabinet can also help you handle the typical aspects of daily care for your baby, such as nappy wipes and similar necessities. With a little bit of thought and careful planning, you will be equipped to handle any problems while keeping yourself stress-free.
You might also like...