Medicine Cabinet for a Healthy Baby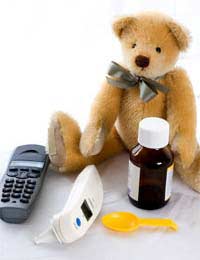 While your medicine cabinet may be stocked full of effective treatments for your own ailments, is it ready to handle your baby's health needs? Babies are not simply smaller adults – meaning that you need to treat their health concerns with medications specifically formulated for their needs.
Using Pain Relievers for Your Baby
Pain relievers are an important addition to your medicine cabinet. Ones such as ibuprofen are important for reducing fever, particularly when the fever is high as a baby is more susceptible to damage from high fever than an adult.
Avoid giving your baby any pain reliever that contains acetylsalicylic acid, which is found in products such as Aspirin. Its association with Reyes syndrome means it can lead to damage in the brain or liver.
Diaper Rash Creams and Other Ailments
Many professionals recommend simple, gentle treatments for diaper rash such as petroleum jelly. If your baby suffers from eczema, you can use a very mild hydrocortisone cream. This kind of cream will help to reduce inflammation your baby is experiencing.
As with adults, a baby can suffer from allergies too. If your baby requires an antihistamine, aim to get a formula that is in liquid format. This will be much gentler and easier for your baby to swallow. The vast majority of infant formulas come in liquid formula now, which makes it easier than ever to give your baby the medicine needed.
Dealing With Cuts and Scrapes
As with adults, cuts and scrapes that your baby experiences can be treated with an antibiotic ointment. This kind of topical ointment will help prevent any cuts and scrapes from becoming infected. It may also be helpful to keep tweezers on hand to extract splinters in your baby's skin.
Skin Protection
Your baby's skin will be quite delicate and sun protection is more important than ever. Make sure you choose a high SPF sunscreen that is formulated specifically for your baby's sensitive skin. Moisturising creams and lubricants are also good to keep on hand. These can help prevent dryness and irritation while also helping to prevent diaper rash as well.
Handling a Stuffy Nose
A stuffy nose is as uncomfortable for your baby as it is for you. Keeping saline drops on hand can help to ease your baby's stuffed up nose and congestion. It works to soften the mucus and help clear airways.
Keeping Your Baby Hydrated
Upset tummies are common in babies and if your baby suffers from gastroenteritis, an electrolyte solution on hand can help. In cases where your baby is vomiting or has diarrhoea, an electrolyte solution can make all the difference in keeping your baby hydrated.
Use Medication Only as Needed
Overmedicating a baby can occur much more easily than it can to an adult. That's why you need to be extra diligent in following directions on the medication exactly as shown. As a baby can't tell you specifically what symptoms are occurring, you need to use physical signs along with your baby's crying and distress to determine what is needed.
Whenever in doubt, it may be time to see your baby's doctor for professional medical advice. For most times though, ensuring your medicine cabinet is stocked with baby's necessities will help you properly handle each medical issue.
You might also like...