Checklist for Stocking a Senior's Medicine Cabinet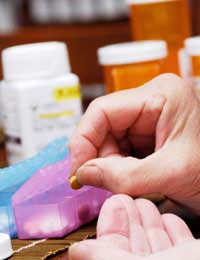 Stocking a senior's medicine cabinet is not unlike stocking a medicine cabinet for most other adults but there are a few aspects and treatments that require additional attention and care to ensure health. Elderly individuals have unique medication needs compared to younger adults and children, primarily because of the difference in body composition and the diseases and conditions that are more likely to plague those who are elderly. Also, seniors are more likely to suffer from chronic conditions that require regular medication. On top of that, they often have numerous medications to take and it can be exhausting trying to organise medications, remember when to take them and still be on the lookout for medicine interactions.
Medicine Cabinet Basics for Seniors
While the specific medication needs of seniors tend to be different from other adults and children, they do still have many needs similar to others in terms of stocking their medicine cabinet. Problems such as osteoporosis and slowed mobility and degenerative conditions, however, can mean that seniors are more prone to slips and falls. As such, they should pay particular attention to stocking their medicine cabinet with a good selection of plasters and antibacterial ointments. Diabetics should be extremely careful with cuts due to the circulatory issues that plague them from blood sugar fluctuations. Seniors also need to ensure that if they wear corrective eyewear, they should wear their glasses or contact lenses when taking medications. In this way, they can correctly follow dosing directions and be properly aware of any cautions or interactions for the medication.
Monitoring Interactions
Drugs tend to have a higher retention in a senior's body, which means that their effects can be stronger. As people age, their metabolisms slow and the absorption and excretion of medications is altered. Although a doctor will adjust the dosage to reflect a senior's metabolism, it's still important to be on the lookout for interactions. Seniors must be clear with their doctors and pharmacists about all medications they are taking; a health professional can ensure that combinations are safe.
Extra Attention to Safety
Given the plethora of medications that a senior may be taking, a medicine cabinet may ultimately be stocked with many strong and potentially dangerous drugs if caught in the hands of children. Studies have shown that many childhood medication ingestion accidents involve a grandparent's medication. While it's vital that you take your medications as directed throughout each day, it's just as important that you keep them stored safely away from your children. Seniors' medications can be highly toxic and it's preferable for you to take your medications in another room. Also be aware that although pill boxes are an excellent way to organise your medications, they don't tend to be child resistant. Therefore, it's important that you store them in a secured medicine cabinet.
When stocking your medicine cabinet, do be aware of the areas that require extra attention, such as a sufficient supply of bandages. You can be readily equipped to handle any minor to moderate aches and pains that may occur and spend more time enjoying your senior years.
You might also like...