Top Ten Myths About Medicine Cabinet Drugs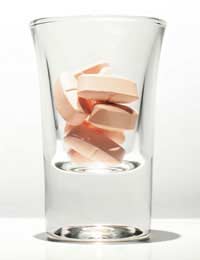 Most of us believe at least one myth or two in general, but when this myth is about medicine cabinet drugs, it can have harmful consequences. By finding out about the most common medicine cabinet drug myths, you can take steps now to protect your health and the health of your entire family.
The Bigger You Are, the More Medicine You Need
A very common myth is that a larger person – height or weight-wise – needs more medicine than a smaller person. While there are some medications that your doctor might specifically prescribe after taking into account your weight, pain relievers are not one of these medications.
Many people think that they should pop extra pain relievers because they are larger than the average person. Being larger than average does not mean you should take more; the normal dose is sufficient. Taking more than the recommended dose can end up leading to an overdose and health problems. You should only take the dose that is recommended on the medicine label.
Same Sized Pills Mean the Same Amount of Medication
Some people mistakenly think that if two pills are the same size, then they contain the same amount of medication. Therefore, they might take an extra dose and risk medication overdose.
A pill that has 200 milligrams of a particular medication could be sized exactly the same as a pill of another medication that contains 400 milligrams. Always read labels carefully and only take the recommended dosage. This way, you can reduce your risks of medication overdose.
Children Can Simply Take a Smaller Dose
Since children are generally smaller than adults, you might think that it's okay to give your child a smaller dose of a specific medicine made for adults. This, however, is not the case and can be downright dangerous.
A child is not simply a smaller version of an adult. Their metabolism and physiology are different in terms of drug metabolism. An adult medication is significantly stronger than what a child should take and they are formulated specifically for adults. Always aim to give your children medications formulated for children, unless an adult medication clearly gives directions for children.
All Over-the-Counter Medications Are Safe
Another common myth about medicine cabinet drugs is that if they are purchased over-the-counter, then they must be safe. While prescription strength drugs do tend to carry a greater number of side-effects, over-the-counter drugs still carry the potential for overdose.
Not only that, but they can interact with your prescription medications, causing serious side-effects and problems. This is why you should always tell your doctor about any over-the-counter medications you are taking when you are being treated.
Staying Safe and Healthy
Your medicine cabinet should be stocked with the important medications you need to keep you healthy. Many people share a number of misconceptions about medicine cabinet drugs. By staying informed and educated though, you can reduce the likelihood of a problem with your medicines. Instead, your medicine cabinet drugs can safely do what they should – keep you and your family healthy.
You might also like...