Considerations When Choosing a Thermometer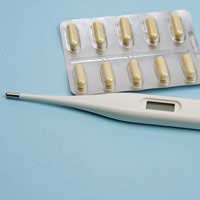 Thermometers are important for assessing body temperature which is elevated during a fever. With so many types on the market today, it can be confusing trying to decide which one, if any, is best. Also important is that the thermometer meets the needs of every household member, including your children. You may ultimately decide that you require several different thermometer types to appease everyone's comfort level.
Basic Tips
It's worthwhile to choose a thermometer that is comfortable to use and read. You can obtain an accurate reading from most types of thermometers and the choice is often simply one of preference. Factors to consider include:
Speed: How quickly does the thermometer provide a reading?
Comfort: How invasive is the procedure?
Cost: How expensive is the thermometer?
Ease of use: Am I confident with how the thermometer should be used?
Digital Thermometers
Most digital thermometers run off batteries and electronic sensors that output body temperature. These can be used either:
Orally
Rectally
Axillary (armpit)
Ear
They usually provide rapid readings within approximately thirty seconds and often have disposable covers for hygiene. Typically, the thermometer will beep once the highest temperature has been assessed and the recording is easily read in a small section on the side of the thermometer.
Bulb Thermometers
These are one of the traditional types of thermometers and are considered accurate, albeit without the speed and comfort level that many of the newer types of thermometers provide. They can also break and the risk of exposure to toxic mercury as well as broken glass, particularly if children are around, can be a deterrent for using this type of thermometer. Some bulb thermometers, however, don't have mercury so you do have several options for choice if you wish to purchase a bulb thermometer. A bulb thermometer can be used to take the temperature orally, rectally or in the armpit.
Pacifier Thermometer
These are an oral type of thermometer that can be convenient if your child is currently using a pacifier, as he or she may more comfortably accept the thermometer. They can, however, still be challenging to use if your child doesn't hold the pacifier still in his or her mouth. It is also thought that the readings may be slightly skewed and can be a bit lower than the actual reading, so they may not be the most accurate thermometers.
Temperature Strips
Temperature strips are placed over your child's forehead. They have a type of liquid crystal that reads temperature and then displays results through a visible colour change. They are very simple to use and apply but they lack the accuracy of other thermometer types and aren't usually recommended.
So Which One Is Best?
Overall, most thermometers will give accurate readings and the choice is one of personal preference. Digital ear thermometers are relatively newer and they take temperatures rapidly and easily. They are, however, expensive in comparison with glass bulb ones and do require a small learning curve when first used. On the other hand, children tend to find ear thermometers particularly comfortable and less invasive than other temperature reading methods.
Despite your best efforts to look after yourself and avoid illness, a fever can still strike. It's important that you have a thermometer on hand to assess your body temperature or that of a loved one. It's also never a bad idea to have an extra backup thermometer in case your primary one breaks. By keeping a thermometer in your medicine cabinet, you will have convenient access to a tool that can let you safely monitor and treat fevers.
You might also like...