Organising Your Medicine Cabinet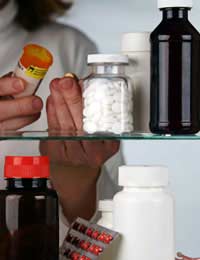 Your medicine cabinet is the first place you go to obtain relief from all sorts of ailments-whether it's a plaster for a paper cut or a prescription strength painkiller to handle a painful migraine. If you find that a trip to the medicine cabinet results in a lot of frustration as you struggle through masses of bottles gauze and miscellaneous items to find what you seek, it may be time to clean out the clutter and get organised. If simple organisation and convenience aren't enough to motivate you, consider that the time lost hunting for an item is more time spent feeling poorly.
Choosing a Medicine Cabinet
It's important to choose a medicine cabinet that can accommodate all of the contents and is also secure and kept away from children. If you don't want to spend the money on a cabinet specifically built to hold medications, consider labelled plastic boxes with snap-down lids. As these don't have locks, you will have to ensure they are stored high out of a child's reach. Some people also like to use these boxes inside a cabinet because it lets them group medications according to their function.
What Do You Really Need?
If you have medicines in your cabinet that are past the expiration date, are never used or simply appear to be crusted over and old, then it's probably time to bid them farewell. Be sure that you don't, however, automatically throw them in the bin or flush them down the toilet or sink. Most pharmacies can safely dispose of drugs so do check with your local pharmacy for this service. They can also provide information about which drugs can be disposed of at home and which require toxic waste removal.
Pain, Headaches and Fever
There are many over-the-counter painkillers available, some with added ingredients such as caffeine. Two popular and effective ones are:
Some people find them to be a bit irritating to the stomach, so it may help you to take these with plenty of fluids and some food.
Coughs and Colds
Coughs and colds can be treated with decongestants, cough suppressants and expectorants. Cough syrups tend to suppress coughs and may contain dextromethorphan. A decongestants commonly found in over-the-counter preparations is phenylephrine. Expectorants loosen phlegm and help bring it up in a cough; a common expectorant you may find is guaifenesin. Most of these are fairly effective at treating cough and cold symptoms but they won't cure the virus itself. As with many types of medication, you can find drowsy and non-drowsy formulas, allowing you to choose the type that is most suitable to your lifestyle.
Allergies
For allergies, you will probably need an antihistamine, which will act to suppress histamine, a chemical released during an allergic reaction. Depending on your needs, you may wish to choose a daytime formula, a night-time one, or both. Some of the antihistamines you may see as the main ingredient in allergy formulas are:
Clemastine
Loratadine
Diphenhydramine
You might also want to keep some eye drops in your medicine cabinet. Some formulas are medicated and contain an antihistamine while others are merely lubricating for dry eyes.
Digestive Problems
Digestive upsets can happen from any number of causes. It may simply be that a food didn't agree with you, leading to heartburn, nausea, diarrhoea or constipation. You may be suffering from food poisoning or have an upset stomach due to stress and similar causes. Whatever the cause, it's important to have a range of remedies on hand in your medicine cabinet to handle digestive upset.
If stomach acid is a problem, leading to heartburn, you can try over-the-counter remedies such as Tums and Rolaids, both of which have calcium carbonate as an active ingredient. They work to neutralise painful acid and can leave your stomach feeling much better.
Diarrhoea can be addressed with remedies such as Pepto-Bismol and Imodium and you should ensure you drink plenty of fluids during a diarrhoea attack. If you're plagued by constipation, fibre drinks such as Metamucil, along with lots of water, can help to get you regular again. Laxatives can be purchased but non-laxative remedies should be tried first, as laxatives can lead to bowel dependence. These remedies are all effective for infrequent and very occasional digestive discomfort, but if you suffer from digestive problems regularly, you should see your doctor.
Skin Rashes and Itching
Skin rashes and itching can be helped with topical antihistamines. Some also contain calamine and are usually effective at reducing itching and rashes. A pharmacist is an excellent contact point to help you find the best cream to treat your specific rash or itching.
Other skin-related creams you may wish to keep in your cabinet include:
Anti-fungal creams: These are particularly useful for fungal infections on the feet.
Salicylic acid: In mild amounts, it can be helpful for acne, and in a stronger concentration it can be used to treat warts.
Yeast medications: Women who suffer from frequent yeast infections can usually identify when an infection begins, and so should keep medication on hand to commence at the first sign of infection.
Cuts, Burns and Similar Wounds
It's vital that you have remedies for skin wounds, because a break in the skin means that there is potential for infection to set in. Ensure you have the basics such as:
Gauze
Plasters
Medical tape
Antibiotic ointment
Hydrogen peroxide
It's also a good idea to keep plasters in a range of sizes so that you get a comfortable fit for the wound.
Tools
For fevers, always be sure to keep a working thermometer in your medicine cabinet and you may want to consider a backup one as well. Tweezers are useful for removing splinters and a magnifying glass can be of additional aid.By keeping a well organised and stocked medicine cabinet that allows you to find items quickly and easily, you will be equipped to handle the common aches, pains and injuries that most people experience throughout the year.
You might also like...