Poison Prevention and Control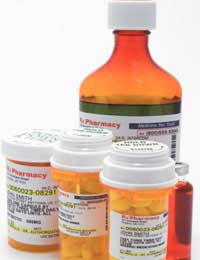 Deaths and hospital visits from accidental overdoses related to medications are largely preventable. Children are a key concern because when they do get access to medications they may take large, poisonous amounts. In addition, the practice of flavouring cough syrups to make them more palatable has the unfortunate side effect of also tasting good to a curious child, who may then consume the entire bottle.
Remembering If You Took a Dose
Sometimes when life gets hectic and busy, you might have trouble remembering if you took your last dose and subsequently, you may end up taking twice the amount indicated on the label. This can lead to an overdose of the medication and is prevented by keeping pills distributed in a pill box ready for ingestion. You can also create a chart that you check off each time you take the required medication dose.
Lock Your Medicine Cabinet
This point simply can't be stressed enough-if you have children in the home, your cabinet should remain locked at all times. Kids have an uncanny way of climbing onto countertops and reaching cabinets that appear to be out of reach. Kids are curious and they will meddle, sometimes more so if you tell them that the cabinet is dangerous and not to be touched, so ensure it is locked and secure from grasping hands.
Childproof Bottles
Fortunately, most medications today do have a childproof cap. This is particularly important if you make the mistake of leaving a bottle lying on a counter because it prevents your child from opening it. There are laws and regulations that require certain medications to have a childproof cap but it's ultimately your responsibility to ensure that the bottles are secure. Childproof bottles are an important feature for poison prevention but are, however, still secondary to a locked medicine cabinet.
Additional Tips for Poison Prevention
There are numerous safeguards to prevent and address medication poisoning in the home. Follow these tips to keep your household safer:
Don't ever share your prescription medications or take those prescribed for others. You don't know how your body will react or what dose would be appropriate. Only a doctor can determine if the medication is right for you, how much you should take and for how long. The medications can also dangerously interact with others you may be taking.
Follow label directions carefully and always read warning labels to ensure you take medications safely and as directed.
Be particularly mindful of warnings to avoid or limit alcohol.
Keep the telephone number for your local poison control centre in an easily accessible spot near your telephone and be sure all household members are aware of the number.
If you are in the midst of taking a medication and are interrupted by a doorbell, for example, take the medication with you. Do not leave it unattended on the counter. Numerous accidental ingestions by children can occur in this manner.
A Final Note on Ipecac
Traditionally, ipecac was used to induce vomiting after a child was suspected of having consumed a poisonous medication or other substance in the home. The effectiveness has, however, been questioned for some time now and the most recent recommendations are that you do not administer ipecac to a child and instead, call your local poison control centre immediately and follow their instructions.
The preventative nature of most poisonings means that you have the power to create a secure home environment for yourself and your family. Start by keeping your medicine cabinet locked and then follow the tips mentioned to safeguard your home. Your medicine cabinet can continue to be a health aid, rather than a poison.
You might also like...