The Dangers Of Combining Medications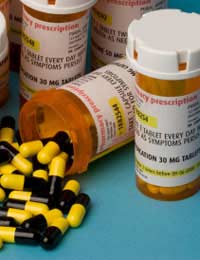 Most of us have our medicine cabinets full of the same basic medications and remedies to treat a range of common ailments like an upset stomach headache, fever or various non life-threatening aches and pains. By following dosage instructions, any side effects are usually minimal and mild and we experience relief for our discomfort. The problems tend to begin when selecting more than one medication to treat multiple symptoms due to the chances of a harmful combination.
What Should I Watch Out For?
You should actually watch out for any and all combinations of medications. No list you will find is usually exhaustive. Ultimately, the best way to ensure you don't experience a complication from combining medications is to read labels carefully and ask your doctor or pharmacist questions if you anticipate taking a particular combination and are unsure about its safety.
Cautions for Commonly Used Combinations
Alcohol is a substance that should be moderated or avoided whenever possible if you are taking any medications, prescription or otherwise. Some of the combinations known to cause adverse effects include mixing alcohol with cough syrups, pain relievers, antihistamines or any drugs for treating insomnia. The effects tend to be stronger and can involve severe dizziness, lack of coordination or drowsiness.
Any sedatives you may be taking should never be mixed with drugs for sleep disorders, herbal or otherwise, because these can result in dizziness and heart palpitations. They may also create an amplified effect that lasts through the next day and impairs your functioning. Products such as aspirin thin the blood and shouldn't be combined with blood thinners such as warfarin. Generally, cold medications such as decongestants should be approached cautiously if you have high blood pressure or heart disease. Laxatives and diuretics should generally be avoided if you have any other stomach ailments that include symptoms of pain, vomiting or diarrhoea.
A Note About Multi-Drug Formulas
Many over the counter medications involve combinations of drugs and these are helpful if you are experiencing several symptoms related to a cough, for example. While it is advised that you only treat the symptoms you have, it's a good idea to use a multi-drug formula where appropriate because it allows you to obtain relief for several symptoms in a format that has been tested for safety.
Symptoms of Common Drug Interactions
Most people who do experience symptoms from one of the more common drug interactions will probably find they are not serious but can still be very uncomfortable. They include:
Headaches
Nausea, diarrhoea or constipation
Heartburn
Dizziness
There are also serious side effects that can occur and these will require immediate attention. Serious side effects you could experience from a medication combination include:
Heart palpitations
Rash
Increase or decrease in blood pressure
If you think you may have taken a medication combination that has resulted in a mild drug interaction, speak to a doctor or pharmacist to address your concerns. If the drug reaction is more serious, however, it's important that you receive emergency attention. The ideal way to treat an interaction is to avoid one in the first place. By reading labels and being aware of risky combinations, you can obtain the full benefit from popular medications used to treat common ailments.
You might also like...
My Brother & I have been trying to research on his new Meds & in last couple months
Glenda Marshall
- 3-Aug-13 @ 9:49 PM