Sex: What to Have in Your Medicine Cabinet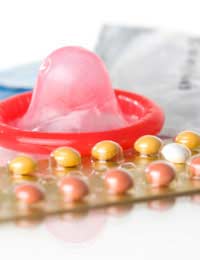 Even if you have already thought carefully about your medicine cabinet and stocked it with the commonly used heath medicines, you might still have forgotten to consider an important health area – sex. There are many useful remedies and treatments for sexual problems but this important area can easily be missed when you're putting together your medicine cabinet. Take the time to think about your sexual health and the products to keep in your medicine cabinet.
Birth Control
If you're a woman of childbearing age and sexually active, then birth control should definitely be a part of your medicine cabinet. If you're on a daily pill, keep your birth control locked in your medicine cabinet but accessible, which will allow you to find it easily each day. Some women might also want to post reminders on their cabinet as well.
Condoms can be stored in your medicine cabinet but you will likely want to keep them in a handier place to allow for more spontaneous sex. The same goes for lubricants or any alternate types of birth control such as a diaphragm.
Bladder Infections
Unfortunately, women who are sexually active are far more prone to suffering from bladder infections than women who are not having sex. Any herbal remedies for the bladder or cranberry supplements can be a welcome addition to your medicine cabinet and can help prevent painful bladder infections.
Antibiotics
If you are sexually active and not in a monogamous relationship, you should be getting tested on a regular basis for sexually transmitted diseases. Many can be cleared up with a single course of antibiotics.
Bladder infections are also treated with antibiotics and pain relievers. Ensure you keep your antibiotics locked in your medicine cabinet and that you also finish the full course.
Menopause and Sexual Health
If you're a woman entering the menopausal transition, you may want to start using treatments to improve sex. Herbs and hormone replacement therapy can help to reduce vaginal dryness experienced during sex as well as improve sexual drive.
Some natural supplements for menopause can further be added to your medicine cabinet. Lubricants and hormone creams are also worth considering if you're undergoing the menopausal transition.
Libido
For men, keep any natural or prescription medications for enhancing libido in your medicine cabinet. Given some of the particularly severe side effects with a number of these products currently on the market, make sure you keep these drugs locked in your medicine cabinet to ensure children don't access the contents.
A Healthy Body for Sex
Although some people won't need the vast array of medications and treatments available for sexual health problems, others can really benefit from including these products in their medicine cabinet. In particular, women can ensure that their body feels comfortable and good after sex, without irritation or related problems such as bladder infections.
If you do have health issues around sex, consider putting together a labelled container of products for your sexual health. This will allow you to easily access medicines in your medicine cabinet whenever you need them, keeping you in optimum sexual health.
You might also like...