Useful Contents In A First Aid Kit and How To Use Them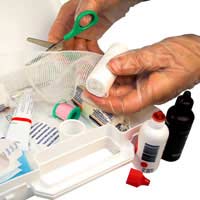 A well stocked first aid kit is a necessity for every household. Burns scrapes, bumps, cuts and bruises are virtually inevitable parts of life that can result from the many activities you or your family partake in each day. For kids, who are often involved in rough and tumble play, these minor injuries may be more frequent. The important thing to remember, however, is that they may start minor but if they are not properly cleaned and protected with the appropriate tools and products in your first aid kit, they can lead to problems such as infection.
What Is A First Aid Kit?
Some people use the term 'first aid kit' to mean your entire medicine cabinet, which would then include prescriptions and over-the-counter oral remedies. For the purposes of this article, however, a first aid kit is for treating physical injuries such as cuts and burns. It's a somewhat more extensive kit like one you would keep in your car, for example, to treat immediate injuries.
Stocking Your First Aid Kit
There are some basic contents that every first aid kit should have in full supply. The main one includes plasters of various sizes. Your skin comprises the primary barrier for protecting your body and when this barrier is compromised, bacteria and viruses can easily penetrate a wound. Not only are plasters important to keep out pathogens, but they also prevent the wound from getting nicked and jabbed, particularly if you have cut your finger or a part of your body that is often in motion and can easily be knocked or cut again. Butterfly bandages are also excellent for keeping wound edges together and helping it to heal. Other important contents to keep in your first aid kit are:
Antibiotic cream or ointment.
Gauze for protecting larger cuts and injuries.
Latex gloves for hygiene. If you are allergic to latex, then you can find non-latex gloves that will serve the same purpose.
Scissors for cutting gauze to the desired length.
An antiseptic cleaning solution such as hydrogen peroxide.
Tweezers for removing a splinter.
Antibacterial soap cleanser for washing cuts and abrasions.
Adhesive tape to keep a wound dressing or splint secure.
Pain relievers to address any inflammation associated with the wound.
Eye wash solution in case a harmful substance gets into eyes.
Other useful items that aren't necessary but may come in handy if you encounter injuries include cotton balls, cotton tipped swabs and chemical ice packs. Also important is that you have a list of emergency access numbers nearby if assistance is needed.
Know How to Use a First Aid Kit
Purchase a first aid manual and read it carefully so that you are confident you can use the first aid supplies. Also do an inventory check regularly to ensure that the kit remains well stocked and has all of the necessary supplies. It's helpful to store your first aid kit in a plastic box with a snap on lid, so that you can easily find all of the items you need to treat injuries. Keep the box locked in your medicine cabinet to prevent your children from obtaining access.
A medicine cabinet holds all sorts of important tools and remedies to support your health but your first aid kit may well be the most valuable. A first aid kit can quickly allow you to address immediate injuries and prevent infection, which can hopefully allow for successful healing. By treating injuries as soon as they occur, you can get back to enjoying your daily activities. However, a good first aid kit is only as useful as the person using it so make sure you also have a first aid manual from which you can learn the basics. Better still, enrol on a first aid course.
You might also like...
It is good to know how to administer first aid.
DENNYWISE
- 8-May-11 @ 3:23 PM